Why?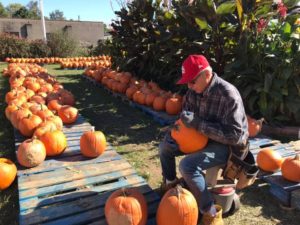 Some things in life just don't have a good answer. They beg for logic, or anything that makes sense. The Kenova Pumpkin House is one of those things.
In 1978 Ric Griffith carved four pumpkins to display on his Chestnut Street porch at Halloween – one for each member of his family. By the time his third daughter was born in 1981, it was no longer a family count, but had become a quest to fill the porch. In successive years it reached the porch roof, the house roof, and passed 100 jack-o-lanterns annually.
The move to 748 Beech Street in 1991 finally closed the door to sanity. The three-fourths acre property, listed as a National Historic Landmark, had been owned by Joseph Miller, the U. S. Internal Revenue Service Commissioner during President Grover Cleveland's split terms. Cleveland once visited his close friend Miller at the house, a notable moment in local history. But that fact has been largely forgotten, since the larger house and yard boosted the yearly carved pumpkin totals to 500, then 1,000, and finally 2,000 to honor the new century and millennia. It had become "The Pumpkin House."
The project at first depended upon help from Ric's three daughters, Heidi, Jenni, and Y, (Yes, it's just "Y" – a different story.), and their friends. As years passed, students from nearby Ceredo-Kenova High School joined the process, scooping and hauling pumpkins. The work has always been formidable, but as pumpkin totals increased, volunteer numbers expanded to meet the growing demand. However, when the pumpkin display reached 2,000, several faithful volunteers asked that it not be that many the next year. They were promised 2,000 would not be repeated. When it jumped to 3,000, they seemed afraid to mention it again.
With annual visitors numbering in the tens of thousands, the preparation is accomplished by over a thousand volunteers from the Tri-State area of West Virginia, Kentucky and Ohio. Groups from schools, churches, and organizations, join families and individuals, who walk into the yard and ask, "How can I help?"
But why? Without a reasonable explanation for the Pumpkin House's origin, its growth can be attributed to the loving response from visitors, young and old. The kindest compliment came from an elderly woman who slowly came up the driveway using a walker. With tears in her eyes she thanked us saying, "We lose the wonderment of childhood when we grow up. Never again do we experience the same excitement we felt on Christmas morning, or when we got our first bicycle, but tonight, enjoying the pumpkin display, I got that same feeling. Knowing what it was, I had to thank you."
We don't know why there is a Pumpkin House, but we are blessed by the thousands of volunteers, and by the hundreds of thousands who have visited.
We thank you all!